so on peavine today i found a stuck bronco II. he was bone stock and i guess tried to go down some gnarly trail with lots of rocks (or he rolled down it). anyhow he had a note saying "ill be back to get my truck today 10-22) and since today is 10-25 i am wondering whats up. he's prolly going to need someone to winch him up. i dont think i could have pulled him out of there it was pretty ugly. i got pics....
to get to it you go out Robb Dr, turn right on Avenida De Landa or something and then turn right on silverado creek rd, then right on heatherglen and then right on moose ridge dr. he is basically straight out there you go up the big hill directly in front of you (interestingly enough this way out was way easier than the way i went in...) he is on the little ridge where directly in front of you the trail turns into a quad trail and to the right of you is the little dirtbike quad playground thingy where they all try to run up the hill... he is down on the left hand side facing the water tank they are finishing.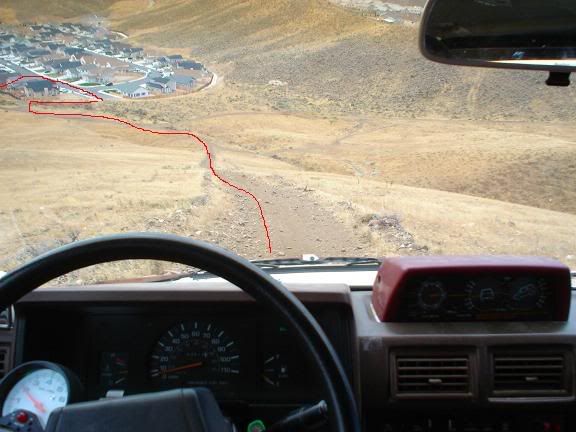 the red line shows how to get to the trail im on. the road you see directly is moose ridge dr.