Active member
Premium Member
I figure some of you all might like following along with this.
I seriously have no idea what I'm doing. I have never ridden a motorcycle or dirtbike. I do, however, know that I like taking old junk, making it into not junk, and then either keeping and using or selling said not junk. Currently I have about 1.75 Honda XL175's. One is a 1973, the other is a 1974.
There's some story behind how I got these. This bike was for sale here. I ended up driving out a ways to see it, discovering it was seized. I left empty handed. A few weeks later my buddy pulled into my driveway with a present for me. While picking up an FSJ, he noticed an old incomplete orange dirtbike in the guys yard. Turns out the guy just wanted it gone, and gave it, along with a title, to my pal. He brought it over and dropped it off. A week or two after that, I reached out to the original seller to see if he still had the complete bike to hopefully come to a deal. He had just sold it the week before. Well, crap. I reached out to the guy that bought it to offer him the mess of parts/title that I have, and he told me he could be talked out of the complete bike, because he didnt want to deal with it being seized. We reached a deal and I brought it home last summer. So, at this point, I have somewhere around 1 2/3rds Honda XL175's.
Here's the "good" one. Its pretty much all there except turn signals and mirrors. A little bit of funky wiring. Odometer reads 1900 miles. Only major issue I've seen is the typical rusted out muffler to header joint, and the engine is seized, obviously. The kick starter shaft is NOT broken.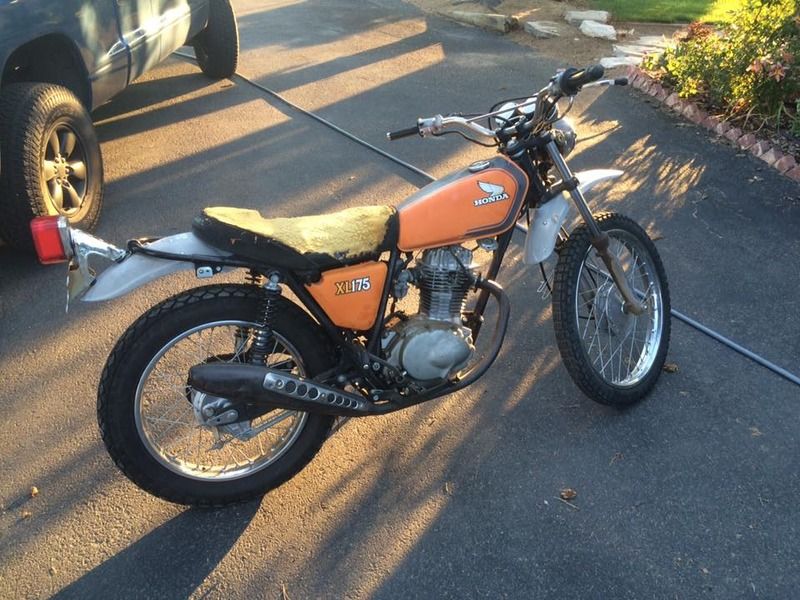 Here is is with the junky one that has a title. Missing the seat, the controls, mirrors, exhaust,chain, side panels, a bunch of other stuff, tank is dented, blah blah blah. I haven't tested the engine because the kick starter shaft IS broken on this one,, but supposedly it had low compression when parked, and had already been honed and had oversized rings. Has over 9000 miles on the odometer.
My plan here is to try and get the good one up and running in mostly complete form, for as little cost as possible. LEt me reiterate. I HAVE NO IDEA WHAT IM DOING HERE!
So, what better way to figure it all out than to just dive in? I was bored on Sunday. I rolled it under my little covered work area, and got to turnin' some wrenches. This all seems pretty easy . I say that because I went outside and an hour later I had the engine sitting on my bench and I'm pretty positive I didn't break anything.
I must say, aside from all the grease and leaked fuel and whatnot, this thing is clean. The tank has typical rust inside, but no corrosion anywhere on the chrome or frame or anything. The bolts all came right off using hand tools, no rust or anything.
So, here's where we are at currently.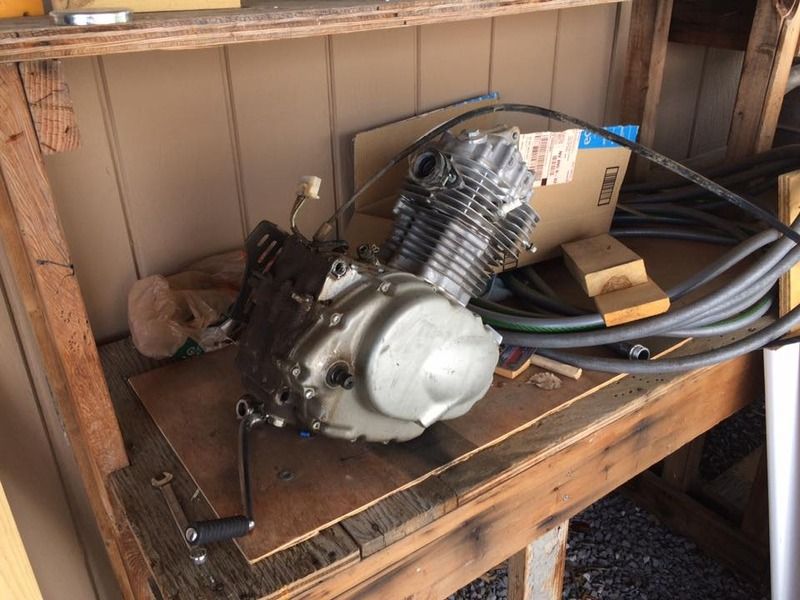 I'll keep this updated as we go along and will post more as I make progress. Any help or suggestions are appreciated, as I really don't know what I'm doing lol.
Last edited: