http://www.youtube.com/watch?v=OCUm....carlustblog.com/2008/06/car-lust--inter.html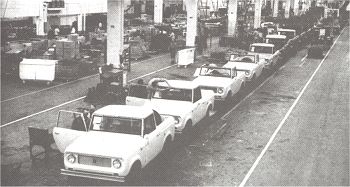 The International Harvester Scout was one of the first production American civilian off-road sport utility vehicles. It was originally created as a competitor to the Jeep, and like that vehicle, early models featured fold-down windshields. The first generation Scout and second generation Scout II were produced as two-door vehicles with options of a half cab pickup truck or a removable full hard or soft top. Scouts were manufactured from 1961 to 1980 in Fort Wayne, Indiana.
* Scout 80/800 (1961–1971): The original production model
* Scout 810 (1971): Some early Scout II's contain Scout 810 badging on the glove box.
* Scout II (1971–1980): The later standard production model with a removable soft or hardtop (100 in wheelbase).
* Scout II Terra (1976–1980): The light pickup truck version (118 in wheelbase).
* Scout II Traveler (1976–1980): This version had a removable fiberglass hardtop, optional third row of seats (118 in wheelbase).
* Soft-top Safari II (SSII) (1977–1979): This model had removable fabric doors, a rollbar, and softtop. The Soft-top Safari model was tagged the "SSII" by IH marketing. As a result, buyers were generally unaware of the actual "Soft-top Safari" name. Eventually the "SS" letters were assumed to stand for "Super Scout", the name this model is called today.
Engines
built by International Harvester
* IH 4-152
* IH 4-196
* IH V-266
* IH V-304 (Note: This is NOT the same motor as the AMC 304 V8)
* IH V-345
* IH V-392 (Note: While based on the same block as the 304 and 345, the 392 was not available in Scouts)
built by American Motors Corporation
* AMC 6-232
* AMC 6-258
built by Nissan
* Nissan 6-33 (diesel) (naturally aspirated)
* Nissan 6-33T (turbo diesel—1980 only)
International offered the Scout with a variety of engines over its years of production. The Scout 80 (1961–1965) had the gasoline-powered 152 4-cylinder as its standard engine. From 1965 to 1971 (Models 800, 800A, and 800B), engine options were the gasoline-powered 196 4-cylinder, 232 6-cylinder, 266 V-8, and the 304 V-8. A turbocharged version of the 152 4-cylinder engine was offered from 1965 to 1967. There are rumors that a few early Scouts left the factory with Perkins diesel engines, but these would have been special-order trucks and not a standard option. The Scout II (made between 1971 and 1980) had the following engine options: the 196 4-cylinder, 232 6-cylinder (early production), 258 6-cylinder (later production), 304 V-8, and 345 V-8. At the time, International did not manufacture a diesel engine small enough to be used in the Scout, and so starting in 1976 used the Nissan SD-33 diesel engine as a diesel option. This engine was replaced by the Nissan SD-33T turbodiesel engine in 1980.
Dana 27 axles were used for the front and rear wheels in the 80 and 800 models until circa 1968. Both front and rear differentials were offset to the passenger side for the purpose of lining up the driveshafts with the Dana 18 transfer case. With the transition to the 800A model, the rear axle was upgraded to a Dana 44, with a centered differential mated to the Dana 20 transfer case (which had replaced the Dana 18). Some Scouts from this transitional time are a mix of old and new designs, with the rear driveshaft running at an angle. The front axle was still a Dana 27 model, though if the buyer ordered the 3500 lb. axle option the 27 was upgraded to a heavier Dana 30 axle with a centered differential. The V8 engine option included an automatic upgrade to the heavier duty Dana 30 axle. The rear axle shafts changed from two pieces to one piece circa 1968 or 1969. A Powr-Lok limited slip differential was provided as an option for both front and rear axles. Common gear ratios are 3.31, 3.73, 4.27, though nearly any ratio was available by special order.
In Scout IIs, Dana 30 front axles and Dana 44 rear axles were standard until 1974, with front Dana 44 axles as a special order. After 1974 Dana 44 front and rear axles became standard on all Scout IIs. Available gear ratios were 2.72, 3.07, 3.31, 3.54, 3.73, 4.09, 4.27 and 4.54. Trak-Lok limited slip differentials were optional.
Axles originally had a tag bolted to their differential cover stamped with their gear ratio, but this tag often rusted off over time or was intentionally removed. The Line Setting Ticket can be checked to identify the axle model, gear ratio, and whether it is equipped with a traction device, using an International parts code book.