Hey all,
I found this board doing a search for local 4x4 info. I'm pretty new at all this, but I recently bought a '77 GMC Jimmy to fulfill a long time dream of having a rig to go out with in the back country with my family. I'm not into very hard core stuff, but I want to use it to go geocaching and ghost town hunting, as well as a little off road exploring.
Anyway I've had my eyes open for a good deal on a beater Blazer for awhile and I stumbled on this Jimmy for $500.00. It needs some work, but it runs great. It's got a stock 8-400 4bbl engine, with pretty much stock everything else except for glass packs and a 600 cfm Edelbrock Performer Series carburetor on it that is worth nearly half of what I payed for the rig. I will be upgrading the intake manifold and putting headers on it as a start. I also need to lift it a bit and put new rubber on it. It also needs some body work, but I'm not going to make it look too pretty. I want something I'm not afraid to scratch. :wink: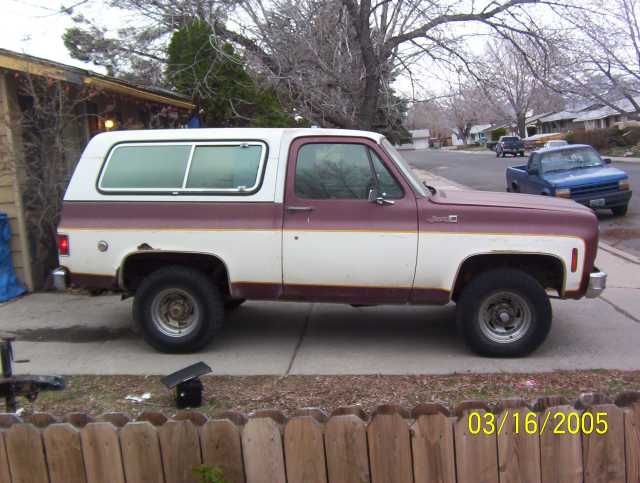 It will be a work in progress and upgrades will be slow because this is the first time I have ever done anything like this and I will only be able to afford a bit at a time.
Looking forward to getting to know you and learning some stuff from you all. I noticed most of you all have Jeeps. Hope you don't mind a GMC hanging around. :8