Active member
Premium Member
Hi! Not really sure where else to place this, as my truck isnt going to be used heavily for camping or overlanding, more like just the occasional "on a whim" camping trip or fishing trip, etc.
I have a 2004 dakota 4x4. It's lifted about an inch and on 32's. Nothing special at all, but it's my daily (well, i daily a company vehicle, but its my "real" or "normal" vehicle). The truck is from NH originally (my dad bought it new) has had alot of rust repaired and was resprayed by my brother back in Rhode Island, then it made its way to me. It;s nothing special, but i plan to keep it as long as it holds together and lasts.
I used to run a tonneau cover but wanted something more useful. As mentioned I'd like the ability to sleep in it with SOME comfort, as well as make it useful, but not purely dedicated to camping. I needed to still maintain the same utility as a truck with a camper shell, because it'll still be used as a truck. I shall chronicle my little project below:
I picked up a camper shell for a couple hundred bucks
i plasti dipped it black so i dont look like a banana or yellow pages delivery service.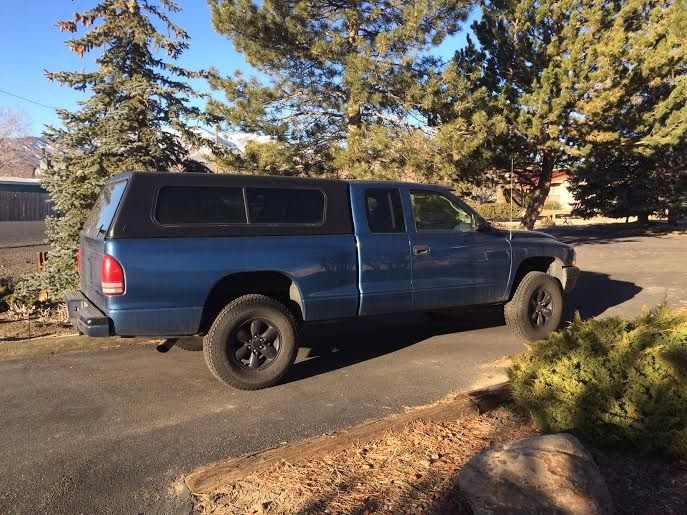 then in installed some inexpensive LED's as general utility lights not just for camping. should he helpful just for loading/unloading on regular camping trips and with plain cargo.
Now here's where things get ugly. apparently i suck at upholstery. I wanted to cover the wires and was considering some insulation for the top of the shell. In the end I decided against any actual insulation since i figure it cant be any different than sleeping in a tent and will rely on my sleeping bag for warmth. I bought a giant fleece blanket and foolishly attempted to glue it to the top.
The actual top came out okay, but then i didnt get everything straight and had to make a bunch of random seams in the back and got some wrinkles. I'm not proud.....but it'll do. I havent gone back through yet with contact cement and glued down the edges around the windows. I've got a bit of "touch up" to do, but it likely wont make much of an improvement. please dont laugh at me lol.
So, one of the big issues about sleeping in a pickup bed is the cold floor, being that air is under you. Again i dont plan on any arctic expeditions in this thing, but at least wanted SOME insulation from the sheet metal.
I picked up a 4x8 of 1 1/2" insulation sheathing, and a 4x8 of luan underlayment. I cut to fit, and glued the luan to the top of the foam so that I can move around on top of it without crushing and denting the foam. this should at least keep the bed from sucking my warmth away. I made it 3 separate panels that can be removed or stacked at the front of the bed for easy storage. Or they can just hang out in there as long as im not doing any heavy materials moving
Next, i picked up a cheap ($19) 5x7 rug at walmart to be installed either with or without the insulation panels. Cut it to fit the wheel wells and cover the floor. I went around the cut edges with a hot glue gun to prevent it from fraying. Why anybody would pay $400 for a "bed rug" kit is beyond me!
Lastly, i know this is only good for warm weather camping, I picked up a twin sized air mattress for $7 at walmart. This will work and be more comfortable than a thermarest or similar thin pad for the majority of camping that I do in the truck. If i do have to camp in the cold, I'll bring one of my thin insulated pads rather than this one which will not keep me insulated at all.
As you can see in a few of the pictures, i also wired in a 12v socket near the switch for the lights. This will run my phone charger or whatever I need back there. All the wiring for the lights and the outlet was done on a quick disconnect spade connector so i can just pop it off when necessary to remove the shell, and everything will go with the shell except 1 wire running in the bed from the 12v on my 7 pin trailer harness.